Past exhibition
Nam Tchun Mo
— Gesture in Space
16.06.2019 – 15.09.2019
Nam Tchun-Mo (born 1961 in Daegu) counts to one of those loose artist groups who initiated a new era of abstract art in South Korea in the 1970s. They are associated with the Dansaekhwa movement, to which artists born between 1913 and 1936 are being attributed. The most significant among them is Lee Ufan, who already has an international career. Kim Whan-Ki, Rhee Seundja, Seo-Bo Park, Chung Sang-Hwa, Yun Hyong-Keun, Chung Chang-Sup and Ha Chong-Hyun are counted to the first generation of artists who consciously avoided relationships with Western art. Consequently, they came to an understanding of the minimalist art and to a mostly monochrome painting, which developed partly meditative power. They were followed by another generation of artists born around 1960 who developed some new accents.
Nam Tchun-Mo is deeply rooted in the spirit of the Dansaekwa movement and has consistently devoted himself to the line, be it in the drawing, in relief-like sculptures, or as a sculptural statement in space. From the beginning he thinks the line in a plastic way. This can be his fine grid lines, structuring the surface and associating a spatial structure through the minimalist trace that moves freely in the pictorial space. This can be as well just a single black line that extends straight or meandering across the sheet, seemingly endlessly imaginable in its repetition.
Singularity and seriality alternate with each other at Nam Tchun-Mo. Only the reduced line language remains stringent. The serial, which in turn is never rigid, but always moved and alive, also adds the haptic dimension to Nam Tchun-Mo. His pictures are always physically intended. In the fine rhythm of the lines, he creates a modulation of the line as a solid, sublime body.
This is due to the processing of fabrics, which he hardens with polyester and creates its own fabric of lines, surfaces, ups and downs, which he sometimes colors monochrome, sometimes specially accents in color, so that very different sensory impressions are generated. Serial sequencing, opposing lines of movement, and rhythm of the surface become living variables. More and more, he is also developing objects in space, which now translate the sculptural works of art into three-dimensionality, some of which will be on display in the exhibition.
Nam Tchun-Mo, in its minimalist language of form, opens up the greatest possible sensual power in which animation and contemplative calm are non-contradictory possibilities. With the inherent power of the Dansaekwa movement, he contrasts this with a new language of gestures in space, blending them into a total experience.
It is Nam Tchun-Mo's first museum presentation in Europe, supported by various sponsors. Special thanks to the Aando Gallery (Berlin), the Leehan Gallery (Daegu and Seoul), the ABCollections and the Korea Arts Management Service for their support and coordination.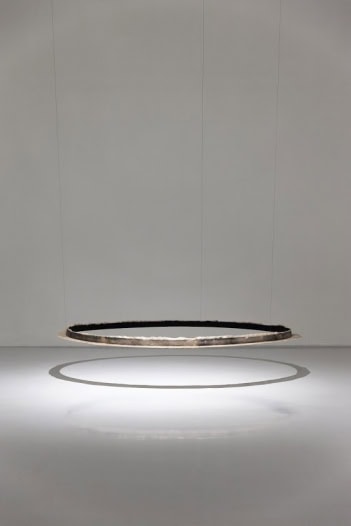 nam-tchun-mo