Past exhibition
Toyen – Surreal/ Radical
07.05.2023 – 06.08.2023
Marie Čermínová/ Toyen (1902-1980) is considered the most important Czech female artist of the 20th century. In her almost 60 active years, the multifaceted painter, draftswoman, graphic artist and poet was part of many currents, ranging from Czech "Poetismus" to "Devětsil" and from Cubism to Surrealism.
Born in Prague in 1902, she left home at the age of 17 to study in Prague and join bohemian circles. Between 1919 and 1922 she studied at the College of Applied Arts without graduating. In the summer of 1922 she met the poet and painter Jindřich Štyrský (1899–1942), three years her senior, with whom a long-term collaboration developed. Around 1922, the artist changed her name to the gender-neutral pseudonym Toyen, derived from the French "citoyen" (citizen), thereby avoiding the gender assignment of her name.
Toyen began her artistic career in 1923 with participation in the radical Czech avant-garde group Devětsil (in English "Butterbur"), founded on October 5, 1920 by Karel Teige (1899-1951). Although this Czechoslovak artist group shared much in its program with other avant-garde movements in Central Europe – including Italian and Russian Futurism, Constructivism, Bauhaus, De Stijl – it nevertheless pursued a decidedly political statement for Marxism. "Devětsil" organized the exhibition "Bazaar of Modern Art" (December 1923), where Toyen was represented for the first time with paintings in the Cubist-Futurist style.
From 1925 Toyen and Štyrský spent three years together in Paris, where they presented their first solo exhibition in 1926 in the "Galerie d'art contemporain". In addition, in 1925 Toyen participated alongside Hans Arp, Constantin Brâncuşi, Robert Delaunay, Theo van Doesburg, Max Ernst, Paul Klee, Fernand Léger, Joan Miró, László Moholy-Nagy, Piet Mondrian and Pablo Picasso in the seminal exhibition "L'Art d'aujourd'hui" (November 1925 – February 1926).
In 1930 Toyen returned to Prague. She is increasingly evolving from the abstract-cubist style of her first creative years towards a personally defined iconography that oscillates between reality and imagination, the seductive and the abyss. In her commitment to the meaning of revolt, dream, eroticism and poetry, she approached surrealism. In 1934 she was a founding member of the surrealist group of the former Czechoslovakia. The personal encounter with André Breton, who would refer to her as "mon amie entre les femmes", strengthens Toyen on her artistic path and establishes her lifelong connection with the group.
In 1939, when the Prague Surrealists were driven underground by the "protectorate laws" of the German occupying forces, Toyen's works evoke the sensuality of hearing, seeing and feeling in a frightening, isolated world. Toyen and Štyrský are strictly forbidden to exhibit and went into hiding. In her tiny apartment in Prague, Toyen hid the Jewish poet and artist Heisler, thus saving him from being murdered.
After the communists took power in 1947, Toyen finally settled in Paris, fearing that her personal and artistic freedom would be restricted. Arriving in Paris, Toyen was immediately accepted by the newly formed Surrealist group and became one of its most important figures. She was one of those artists Breton called the "claqueurs of dreams". The first monograph about the artist was published in 1953, in which André Breton wrote an article defining Prague as the "magical capital of Europe". Toyen fell into oblivion in the last 20 years of her life and passed away unnoticed in Paris in 1980. It was not until the auction of her estate in 1980 that her work became known to a wider audience again. Since then, Toyen's works have fetched enormous prices on the art market and have been exhibited internationally.
The current exhibition brings together for the first time all 35 book publications and their illustrations that Toyen created in Paris from the 1940s until her death. They exemplify Toyen's call and search for freedom, political, sexual and artistic identity and the attempt to overcome socially given boundaries.
The exhibition is made possible by loans from the Ostrava Art Gallery and generous support from the Zdeněk Sklenář Gallery, Prague.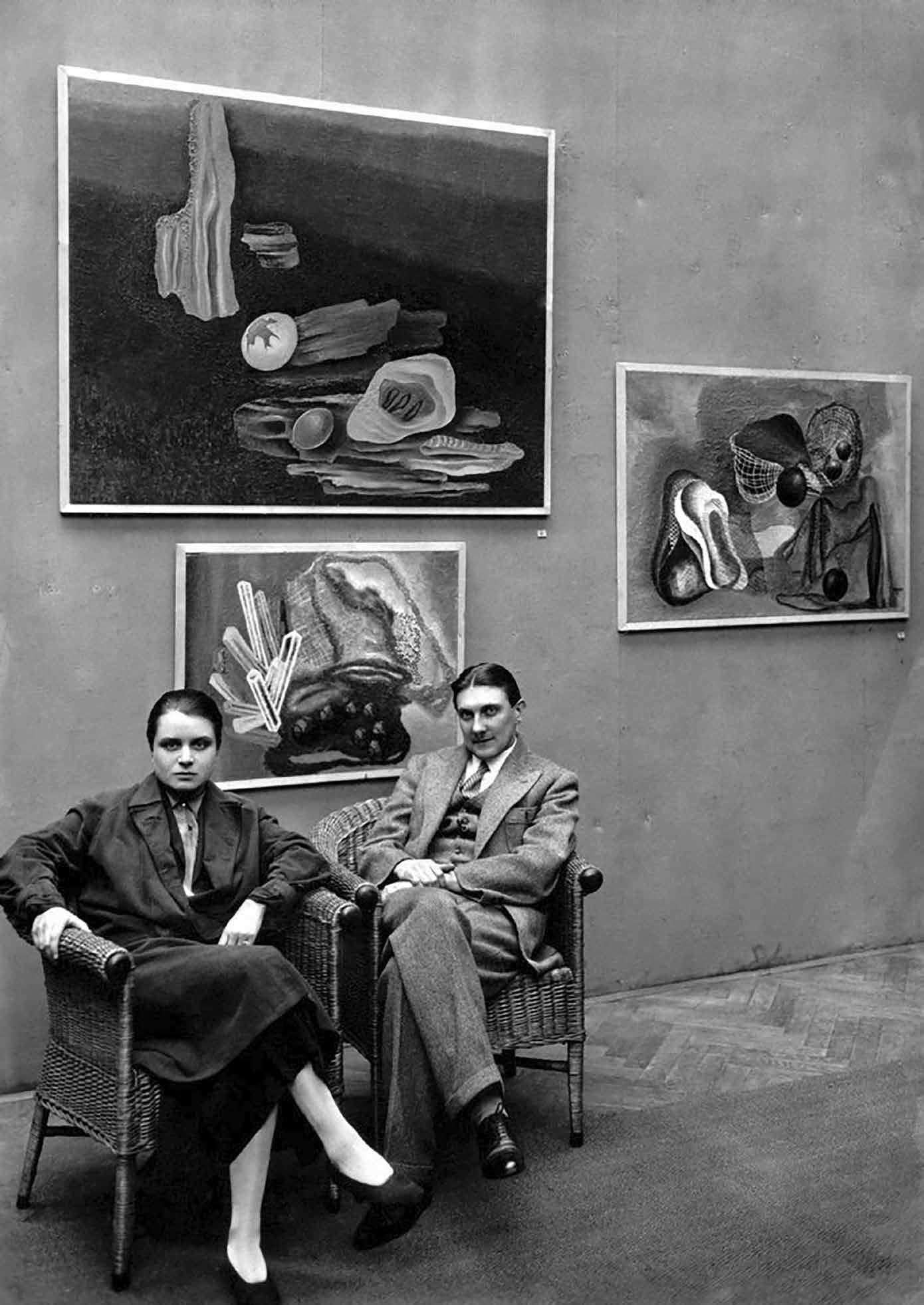 Toyen und Štyrský um 1931. Privatsammlung © Galerie Zdeněk Sklenář 2023