Current exhibition
SACRED PLANET. Rita Sabo
18.11.2023 – 07.01.2024
For the artist Rita Sabo, who grew up in the North Caucasus, the preservation of planet Earth is at the center of her work. In a comprehensive concept, she develops the idea of the "Sacred Planet", based on the ancient wisdom and myths with which humanity has understood itself to be in harmony with nature for thousands of years.
Aware that today's civilizations are increasingly littering and destroying nature, the planet and space in the long term, she is implementing her ideas within the framework of the "17 Sustainability Goals". These goals, adopted by the UN and the international community in 2015, should be implemented worldwide by 2030.
The exhibition presents paintings and sculptures, with painting in particular presenting itself as a symbolic and immersive natural cosmos. Here, complex ornamental patterns and shapes meet plant-based drawings, which in turn are reminiscent of natural growing processes. Rita Sabo often uses an interweaving of kaleidoscopic patterns with repetitive elements that are reminiscent of computer-generated drawings and overlays these with freer painting. This creates different image levels and readings that she transfers to the viewer to unravel and interpret. The artist also responds to the four elements with her own color scale: earth, air, wind, fire, which she introduces as a traditional level of interpretation.
The Sacred Planet sculptures also have their roots in ancient sacred patterns. They evoke the divine beauty of our cosmology, reflecting the complex harmony that tradition says permeates the universe. Each Sacred Planet serves as a reminder of the endeavors humanity must pursue to meet the challenges of the present.
In the summer of 2023, a solo exhibition by Rita Sabo entitled "Sacred Planet" was on view in the world-famous Biblioteca Nazionale Marciana, directly on St. Mark's Square in Venice, in which her work was staged with a view of wall and ceiling paintings by Titian, Tintoretto and Veronese were. After Rita Sabo's works were shown in Venice and in the Salle Ségur at the UNESCO headquarters in Paris, among others, she is now exhibiting her works in Germany for the first time. The exhibition is thanks to the collaboration with the YOU Foundation and the Association for Art in Public.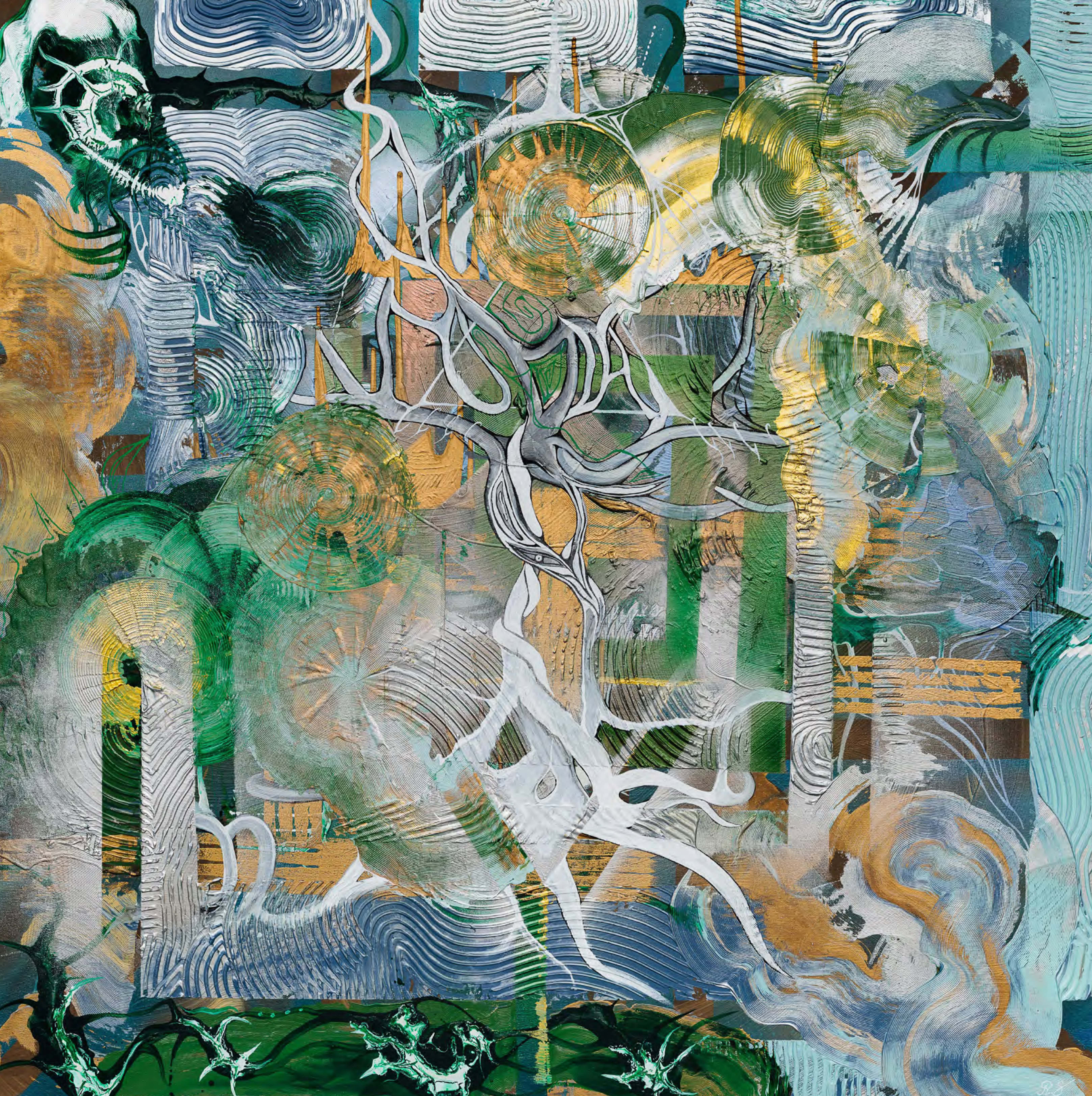 Rita Sabo "Semen", 140 x 140 cm, acrylic on canvas, framed, 2023, © Rita Sabo